proDAD Mercalli V5 SAL+ inclus désormais la correction de volet roulant / CMOS !
Mercalli V5 SAL+ Windows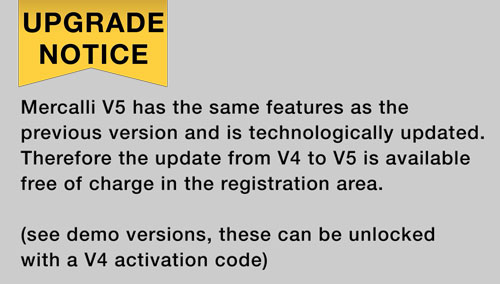 Qu'importe le sport, qu'importe le type de capture d'image, qu'importe le type de caméra que vous avez utilisé Vous vous attendez à ce que vos vidéos ressemblent à votre expérience ! Et qu'obtenez-vous à la place ?
Des images tremblotantes et distordues....
Mais c'était hier, voici aujourd'hui: vous prenez soin de la prise de vue et Mercalli V5+ optimise votre vidéo à votre place !
Stabilisation vidéo, correction de l'effet de volet roulant (rolling shutter et CMOS) quelque soit la caméra embarquée, le smartphone ou le caméscope utiisé.
Et peu importe que les vibrations proviennent du moteur du véhicule ou d'une surface irrégulière: Mercalli s'occupe des distorsions, des vibrations et des tremblottements - individuellement ou en lot ! Par rapport aux stabilisateurs embarqués des caméras, Mercalli V5+ produit des résultats clairement supérieurs et permet de conserver un angle de vue plus large.
Avec ses fonctionnalités additionnelles - corrections CMOS et optimisation 3 axes - avec la version 5+, vous pouvez vous attendre à toute la puissance de Mercalli.
Plus ...
Moins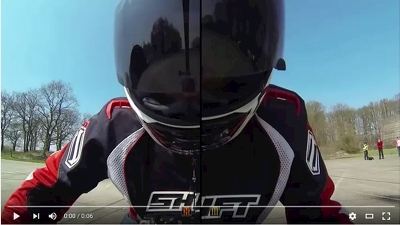 CMOS Repair with proDAD Mercalli V5
Sample for optimization by CMOS-correction only!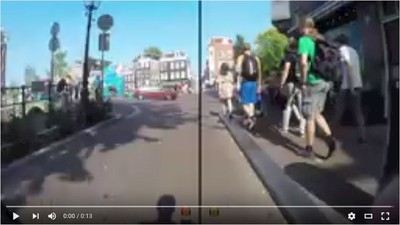 Bike ride video with CMOS Sensor correction PLUS Image Stabilisation
Sample for CMOS-correction PLUS stabilization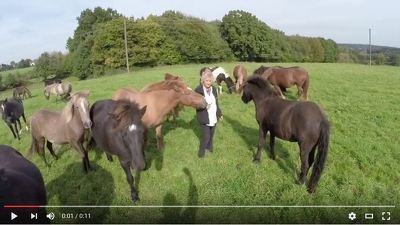 No worries of new cmera perspectives – thanks to having Mercalli V5 in post processing...
Sample for CMOS-correction PLUS stabilization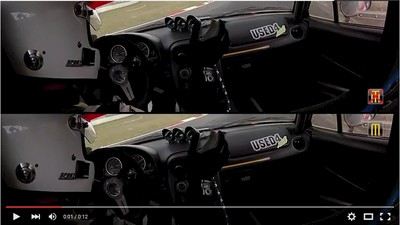 Mercalli 4 Sample: CMOS Correction 'Wobble'
Sample for optimization by CMOS-correction only!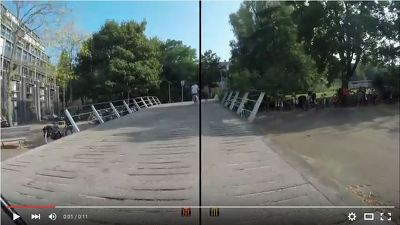 Extreme distortions by camera vibration: CMOS problems repaired by Mercalli V5
Sample for optimization by CMOS-correction only!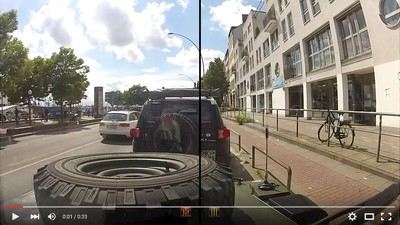 Extreme distortions by Camera-Vibration: CMOS-Fehler repaired by Mercalli V4
Sample for optimization by CMOS-correction only!
Toutes les vidéos
Moins de vidéos
Fonctionnalités
Stabilisation vidéo grandement améliorée, plus rapide et plus efficace que jamais!

Correction CMOS unique et entièrement automatique pour se débarrasser du skew, wobble et jello (délai du signal, vibrations et effet gélatine)

Amélioration de la stabilisation, avec correction optimales des perspectives (3D X, Y et l'axe Z de stabilisation)

Fonction de stabilisation des distorsions (Optic-Warp-Image-Stabilize) quelque soit l'objectif (les distorsions des objectifs fisheye n'ont plus aucun effet négatif sur le processus de stabilisation)

Comme l'effet Fisheye ne nécessite pas d'être supprimé avant stabilisation, le rendu est globalement bien plus rapide et moins de zoom avant est nécessaire

De très nombreuses caméras sont prises en charge. Des profils universels sont à disposition
Réduction dynamique du Zoom (réduit considérablement la nécessité de zoom avant)

Améliorations et ajustements des effets de bord, ce qui réduit également la nécessité d'effectuer un zoom avant.

L'augmentation de la mise au point peut être facilement sélectionnée à l'édition

Amélioration des réglages portant sur les mouvements de la caméra

Fonction storyboard simple d'emploi pour permettre d'organiser ses clips et de les exporter en un fichier unique

Aperçu plein écran très rapide avec de nouveaux modes de comparaison (clip original / optimisé, mais aussi "vue forensique" qui permet d'évaluer la correction appliquée en un tournemain
En plus des réglages individuels et facilement compréhensibles de Mercalli V5, le logiciel offre un mode entièrement automatique pour la stabilisation ainsi que la correction CMOS.
Le réglage avancé des paramètres est une option pour ceux qui souhaitent avoir un contrôle total pour effectuer les réglages fins et ajuster chaque détail.
Toutes les photos
Moins de photos
Thomas Wagner
Plus d'informations
Comparaison de la version
Configuration requise
Caméras prises en charge
Mercalli V5 SAL+ Win
Version précédente
Mercalli V2 Plugins
Automatic CMOS correction
Délai des signaux (skew)
ok
Limité
Limité
Vibration
ok
-
-
Wobble/Jello
ok
-
-
Outils CMOS avancés
ok
-
-
Stabilisation
3D (X,Y,Z stabilisation)
Amélioré
ok
ok
Dynamic Zoom-in
ok
-
-
Options Bordures
Amélioré
ok
ok
Stabilisateur déformation (fisheye)
Optimisé
Limité
Limité
Profil
Caméra Universel
ok
ok
ok
Camera en glissement
ok
ok
ok
Camera Immobile
ok
ok
ok
Action
ok
-
-
Vue Forensique
ok
-
-
Action Camera Optics Profiles
ok
-
-
Outils d'édition
Coupure des clips
ok
ok
-
Rotation des clips
ok
-
-
Fusion de clips
ok
-
-
Prévisualisation en plein résolution
ok
ok
-
Réduction du bruit et affinage
ok
-
-
Support GPU
ok
-
-
Batch analysis of clips in media bin
Amélioré
ok
-
Fonctions StoryBoard
ok
-
-
Formats d'Export
H.264/AVC - MP4
ok
ok
-
H.264/AVC - MOV
ok
ok
-
H.265/HEVC - MOV
ok
-
-
MJPEG - MOV
ok
-
-
Apple Lossless Audio Codec (ALAC)
ok
-
-
AAC
ok
ok
ok
AC-3
ok
-
-
PCM
ok
-
-
Formats d'Import
Container
MP4, QuickTime, MXF, MKV
MP4, QuickTime
-
Codec
AVC/264, HEVC/265
AVC/264
-
Types de fichiers
.mov; .mpg; .mpeg; .mp4; .mts; .m2t; .m2ts; .m2v; .avi; .wmv; .mxf; .vob; .vcd; .3gp; .mkv; .jpg; .tif; .png; .tga; .gif; .bmp; .dpx
.mov; .mpg; .mpeg; .mp4; .mts; .m2t; .m2ts; .m2v; .avi; .wmv; .vob; .vcd; .3gp; .jpg; .tif; .png; .tga; .gif; .bmp; .dpx
-
Spécifications système

Windows 64 Bit: Vista, Win7, Win8, Win8.1, Win10,
4GB-mémoire, GPU, recommandé pour des performances max: i7-CPU, 12 GB mémoire,
carte graphique avec GPU et 1GB RAM

Windows 64 Bit/ 32 Bit: Vista, Win7,

Win8, Win8.1, Win10 – 2GB-mémoire,

suggéré: i7-CPU, 6 GB mémoire

Windows 64 Bit/ 32 Bit: Vista, Win7, Win8,
Win8.1, Win10, 2GB-mémoire, suggéré:
i7-CPU, 6 GB mémoire,
Logiciel d'édition nécessaire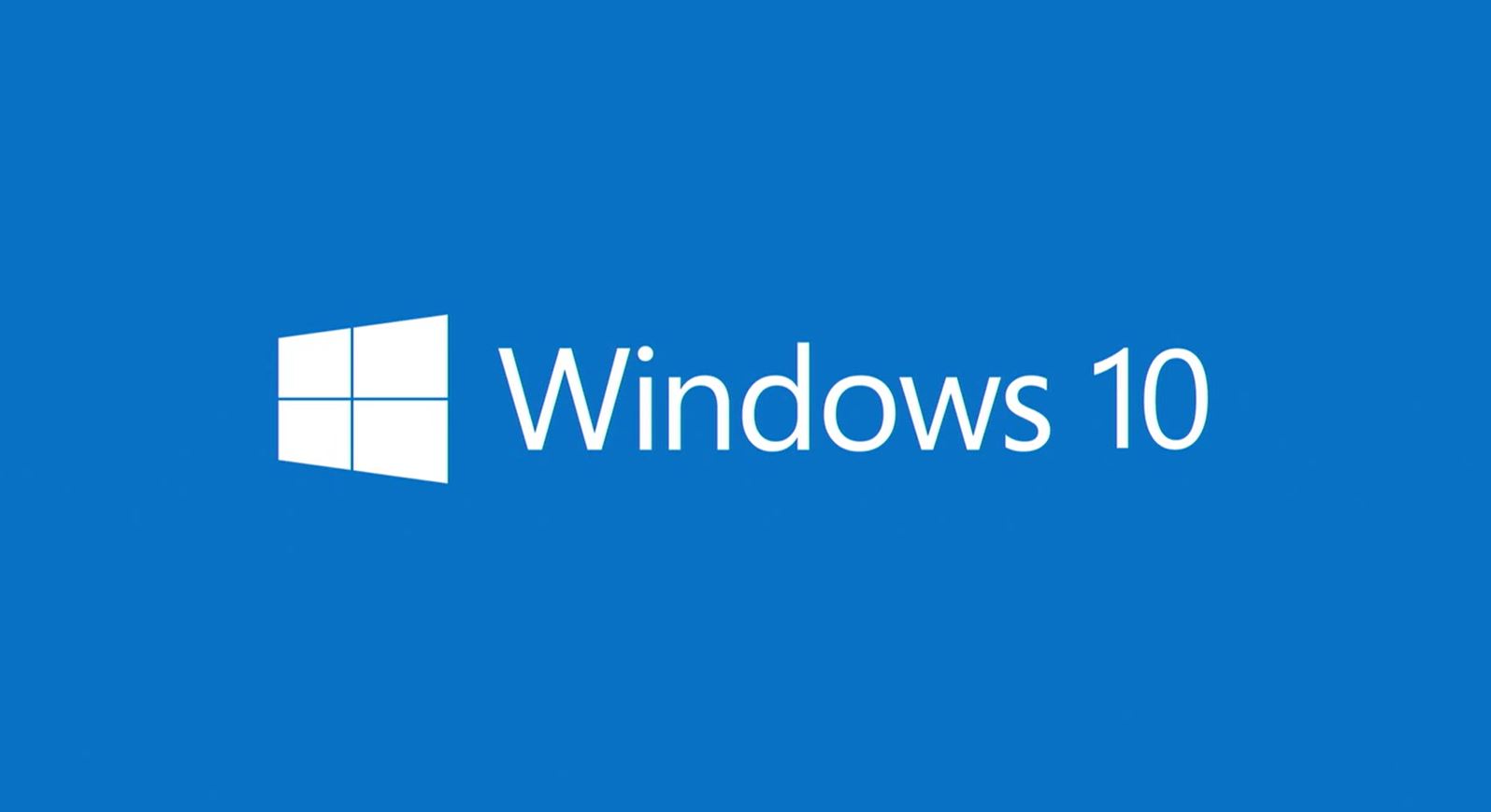 Windows 32-Bit et 64-Bit Vista, Win7, Win8, Win8.1, Win10, Win11, 2GB-mémoire, recommandée: i7-cpu, 6 GB mémoire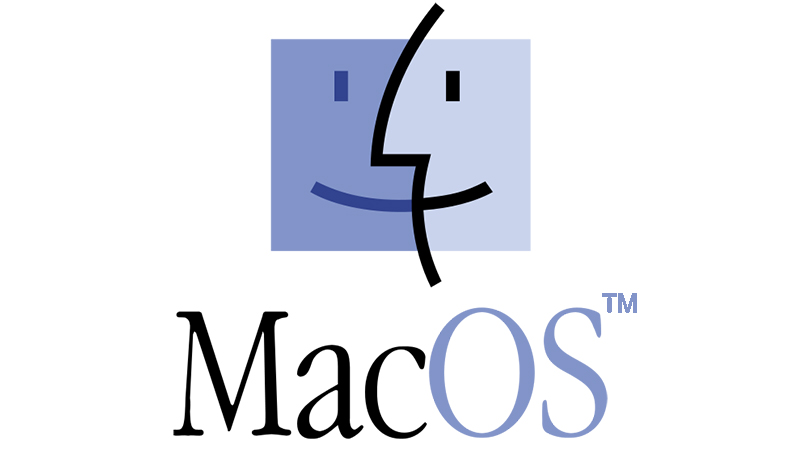 Comme application 64 bits, aussi utilizable sur MAC OS 10.10 et au-delà par « parallels »
ActionPro X7
AEE S51
Braun Master
CamOne
Canon EOS 60D
Canon EOS C100
Canon HFG10
Canon LEGRIA mini X
Canon XHA1
Contour HD Mod1300
Contour ROAM3
Contour+2
DJI Phantom 2 Vision
DJI Phantom 2 Vision+
Drift Ghost-S
Drift Innovations HD170
Drift Stealth
Garmin VIRB
GoPro Hero 1
GoPro Hero 2
GoPro Hero 3
GoPro Hero 3+
GoPro Hero 4
GoPro Hero+
HP ac200
Ion Air Pro
Mobius ActionCam
OlympusE-PL3
Panasonic HX-A500
Panasonic LumixDMC T27
Rollei Bullet HD
Rollei Bullet S5
Rollei S30
Rollei S40
Rollei S7
Samsung Galaxy S2
Samsung Galaxy S3
Somikon DV800
Sony AS100 V (Steady on/off)
Sony X1000V
Sony HDR AS10/AS15
Sony HDR AZ1
Sumikon DV78.night
Toshiba X-Sports
Vivitar-DVR-785HD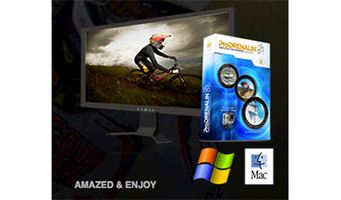 Action cam videos offer us the opportunity to capture our greatest adventure on film. Unfortunately, these videos are often blurred, showdistorted colours or are compromised by the fish-eye effect.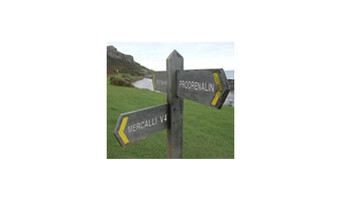 ProDRENALIN, DeFishr, Mercalli and ReSpeedr - proDAD has something for everyone, but which product is "your" product and fits your needs?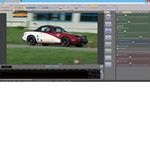 There are many ways to stabilise an action cam video. For "smooth" video enjoyment, the market has now developed a wealth of opportunities for stabilising action cam videos while recording directly in the camera or when post-editing on a PC.