Plugin proDAD Mercalli V4 de stabilisation pour Vegas
Mercalli V4 Plugins for Vegas
Le nouveau plugin Mercalli V4 pour VEGAS est disponible !
Ceci vous dit quelque chose ? Vous avez stabilisé votre vidéo, mais les problèmes suivants subsistent:
Vibrations et gigues (Vibration jitter)

Rétrécissement de la vidéo

Compression de l'image

Tremblements

Oscillations & effet gélatine (Wobble & Jello)
La raison est simple: presque toutes les caméras pour les vidéos d'action et les caméras professionnelles utilisent des technologies à capteur CMOS. Lorsque les capteurs CMOS sont soumis à des chocs ou des vibrations, les images enregistrées sont souvent pleines de distorsions présentant oscillations, vibrations, gigue, etc...
Ces problèmes représentent un véritable défi pour les stabilisateurs standards de vidéo, qui permettent de lisser et d'atténuer les principaux tremblements et les secousses, mais ne peuvent rien faire contre les distorsions CMOS décrites ci-dessus. Seul Mercalli V4 est capable de corriger les deux phénomènes, tremblements/secousses et distorsions CMOS - et tout cela, de manière automatique !
Jetez un oeil à la vidéo sur le côté gauche, vous verrez ce que SEULE la correction CMOS est capable de réaliser. Notez qu'il n'y a pratiquement pas de zoom-in.
Plus ...
Moins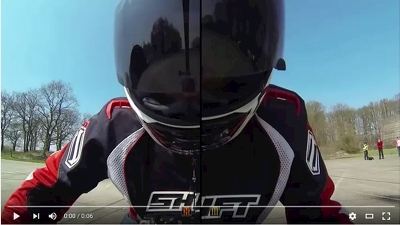 CMOS Repair with proDAD Mercalli V5
Sample for optimization by CMOS-correction only!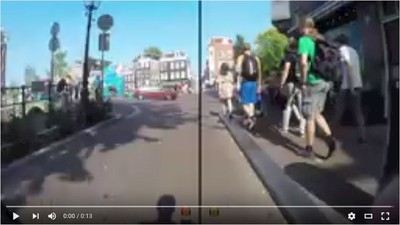 Bike ride video with CMOS Sensor correction PLUS Image Stabilisation
Sample for CMOS-correction PLUS stabilization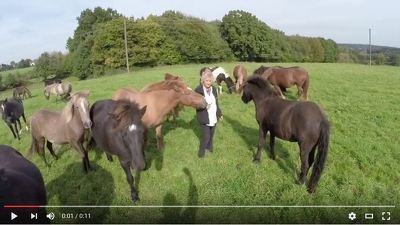 No worries of new cmera perspectives – thanks to having Mercalli V5 in post processing...
Sample for CMOS-correction PLUS stabilization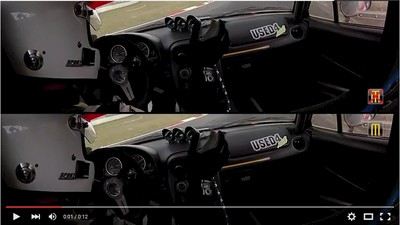 Mercalli 4 Sample: CMOS Correction 'Wobble'
Sample for optimization by CMOS-correction only!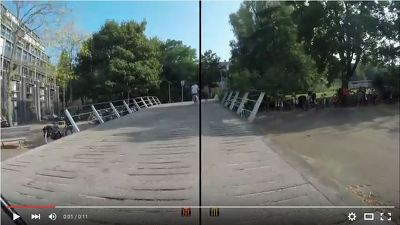 Extreme distortions by camera vibration: CMOS problems repaired by Mercalli V5
Sample for optimization by CMOS-correction only!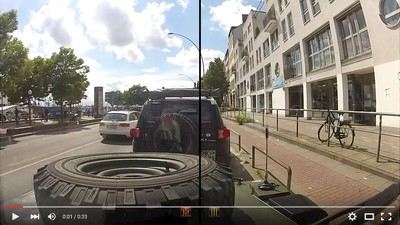 Extreme distortions by Camera-Vibration: CMOS-Fehler repaired by Mercalli V4
Sample for optimization by CMOS-correction only!
Toutes les vidéos
Moins de vidéos
Fonctionnalités
Points clefs du nouveau plugin et améliorations par rapport à Mercalli version V2:
Stabilisation entièrement automatique, facile à utiliser sur plusieurs clips

Graphiques interactifs pour révéler les «zones à problèmes» dans la vidéo pour une aide au réglage manuel, afin d'optimier au maximum vos vidéos

Analyse ultra rapide des vidéos pour la stabilisation (bien meilleure que dans la V2)

Netteté améliorée de l'image sur les rendus stabilisés, grâce à une diminution des zoom-in et grâce à l'utilisation de nouveaux algorithmes de calcul,surtout avec les vidéos entrelacées

Les vidéos fisheye ne perturbent plus la qualité du rendu de stabilisation

La nécessité des Zoom-in est significativement réduite pour les stabilisations, améliorant la résolution et conservant un grand angle
Effet de fondu en début et en fin des rendus de stabilisation afin d'effectuer plus rapidement les rendus sur de courtes sections des clips longs (sans nouvelle section)

En un seul clic, tous les clips qui ont été découpés peuvent être automatiquement stabilisés avec Mercalli (auparavant cela nécessitait d'effectuer l'opération pour chaque clip manuellement)

Support de la technologie 10-bit, 4K et Cinémascope

Stabilisation pour les vidéos stéréoscopiques 3D

Optimisé pour les Multi-coeurs et le multi-threading afin d'obtenir une vitesse de calcul maximale

Supporte les accélérateurs matériels GPU comme fonction de calcul supplémentaire (dépend des cartes graphiques)
Avec un seul clic, tous les clips qui ont été découpés peuvent être entièrement et automatiquement stabilisés (auparavant, cela devait être réalisé individuellement pour chaque clip manuellement)

Supporte 10-bit, 4K et Cinémascope

Stabilisation pour le matériel 3D stéréoscopique

Optimisée pour les multi coeurs et multi-threading pour une vitesse de calcul maximale

Y inclus le support GPU (fonction de la carte graphique)
Toutes les photos
Moins de photos
Plus d'informations
Informations techniques
Configuration requise
Caméras prises en charge
| | |
| --- | --- |
| Formats d'export | H.264/AVC - MP4, H.264/AVC - MOV, H.265/HEVC - MOV, MJPEG - MOV, Apple Lossless Audio Codec (ALAC), AAC, AC-3, PCM |
| Formats d'Import | |
| Container | MP4, QuickTime, MXF, MKV |
| Codec | AVC/264, HEVC/265 |
| Types de fichiers | .mov; .mpg; .mpeg; .mp4; .mts; .m2t; .m2ts; .m2v; .avi; .wmv; .mxf; .vob; .vcd; .3gp; .mkv; .jpg; .tif; .png; .tga; .gif; .bmp; .dpx |
| Logiciel de montage vidéo non linéaire (NLE) | Vegas Pro 13 - 17 |
Windows 64/32 bit: Vista, Win7, Win8, Win8.1, Win10, 4GB RAM, carte graphique avec 512MB u.Shader 3.0
Pour les applications en temps réel, nous recommandons: Windows 64/32 bit: i7 CPU avec 3 GHz et 8 coeurs, 12GB de mémoire vive
Pour la stabilisation: bonne carte graphique avec 512MB, Shader 3.0 avec bus rapide
Pour les corrections Cmos: Très bonne carte graphique avec 1GB Shader 3.0 et bus ultra rapide.
ActionPro X7
AEE S51
Braun Master
CamOne
Canon EOS 60D
Canon EOS C100
Canon HFG10
Canon LEGRIA mini X
Canon XHA1
Contour HD Mod1300
Contour ROAM3
Contour+2
DJI Phantom 2 Vision
DJI Phantom 2 Vision+
Drift Ghost-S
Drift Innovations HD170
Drift Stealth
Garmin VIRB
GoPro Hero 1
GoPro Hero 2
GoPro Hero 3
GoPro Hero 3+
GoPro Hero 4
GoPro Hero+
HP ac200
Ion Air Pro
Mobius ActionCam
OlympusE-PL3
Panasonic HX-A500
Panasonic LumixDMC T27
Rollei Bullet HD
Rollei Bullet S5
Rollei S30
Rollei S40
Rollei S7
Samsung Galaxy S2
Samsung Galaxy S3
Somikon DV800
Sony AS100 V (Steady on/off)
Sony FDR V1000X
Sony HDR AS10/AS15
Sony HDR AZ1
Sumikon DV78.night
Toshiba X-Sports
Vivitar-DVR-785HD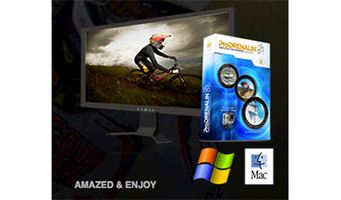 Action cam videos offer us the opportunity to capture our greatest adventure on film. Unfortunately, these videos are often blurred, showdistorted colours or are compromised by the fish-eye effect.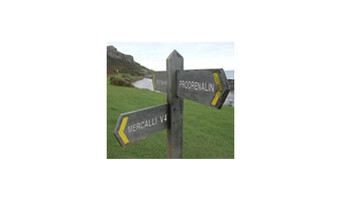 ProDRENALIN, DeFishr, Mercalli and ReSpeedr - proDAD has something for everyone, but which product is "your" product and fits your needs?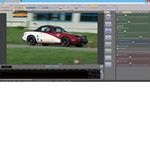 There are many ways to stabilise an action cam video. For "smooth" video enjoyment, the market has now developed a wealth of opportunities for stabilising action cam videos while recording directly in the camera or when post-editing on a PC.